Now you can make Adani electricity bill payment online through Recharge1. Before knowing how to
change a mobile number in an Adani electricity bill, let us understand more about Adani electricity
supply.
Adani Power electricity is an electricity provider across Mumbai. Adani Electricity Mumbai Limited
(AEML) is one of India's largest electricity distribution companies. AEML s a 100% subsidiary of Adani
Transmission Ltd which was formed post-acquisition of Reliance Infrastructure Limited's (RIL) integrated
Generation, Transmission, and Distribution utilities powering Mumbai city. Currently, they are serving
over 2.9 million Mumbaikers with an uninterrupted power supply across the area spanning over 400 Sq.
km in Suburban Mumbai.
Why should you make an Adani electricity bill payment online through Recharge 1?
Recharge1 is the solution for all your utility bill payments. Recharge1 is the most suitable website and
app to make secure and quick online bill payments. Even Adani electricity bill payment is done instantly
through Recharge 1. Also, it offers you exclusive Adani electricity online bill payment benefits including
discounts and cash back. You can pick the best offer for you and save on your bill payments online. You
can get an instant reduction on your electricity bill when you make a payment through the Recharge1
portal.
Now in just a few clicks, you can pay your Adani Online Electricity Bill Payment While getting a 100%
Cashback Offer & earning unlimited Recharge Points at Recharge1. Adani electricity bill payment can be
securely done through debit card, credit card, Master Card, VISA card, UPI, Recharge1 wallet, and net
banking. Adani bill payment using Recharge1 is the easiest and a modest way.
Why registering mobile numbers is important for Electricity supply?
It is vital to get the mobile number in the official records even with your electricity supplier. This helps
you to register yourself and login to the official portals for checking bill history, making bill payments,
getting updates on the phone etc. You can register your mobile number online or offline, whichever
method you prefer. For online you need to visit the website www.adanielectricity.com/ and change your
name or number. For the offline process, you need to visit the Adani office and request for registering or
changing mobile number.
You need to get your mobile number updated in all your documents including an electricity bill
whenever you change your mobile number. You may change your mobile number due to a stolen
phone, a broken sim, or just because you wanted to switch to a different operator. Many, delay getting
their mobile number updated in the fear of extensive and tedious procedures however it is not the case.
It is necessary to get your mobile number updated on the electricity bills.
How to change your mobile number in the Adani electricity bill?
Mobile number is the most vital thing when it comes to paying your Adani electricity bill. All the updates
and OTP will be delivered to your registered mobile number to ensure security in the hand owner. There
may be various situations in your life when you need to change your mobile number. And if you don't
update your new mobile number on the records, it may cause you difficulties in the future for simple
tasks such as logging on to the portal of your electricity board to check the electricity bill history or to
pay bills. Also, you will stop receiving updates from the board if there are any. Below are a few simple
steps to change your mobile number on Adani electricity –
Visit the Adani electricity website – https://www.adanielectricity.com/
Click on my account
You will be redirected to a new page
Enter your username and password
Enter your account number and meter number and fill in the captcha
You will receive an OTP on your registered mobile number
Enter the OTP and a page will open
Here you will be able to change your mobile number
If you are facing any difficulty you can register your mobile number by calling their customer care
number. The officials at Adani electricity bill will assist you to change your mobile number.
How do I make my Adani Electricity Bill Online Payment?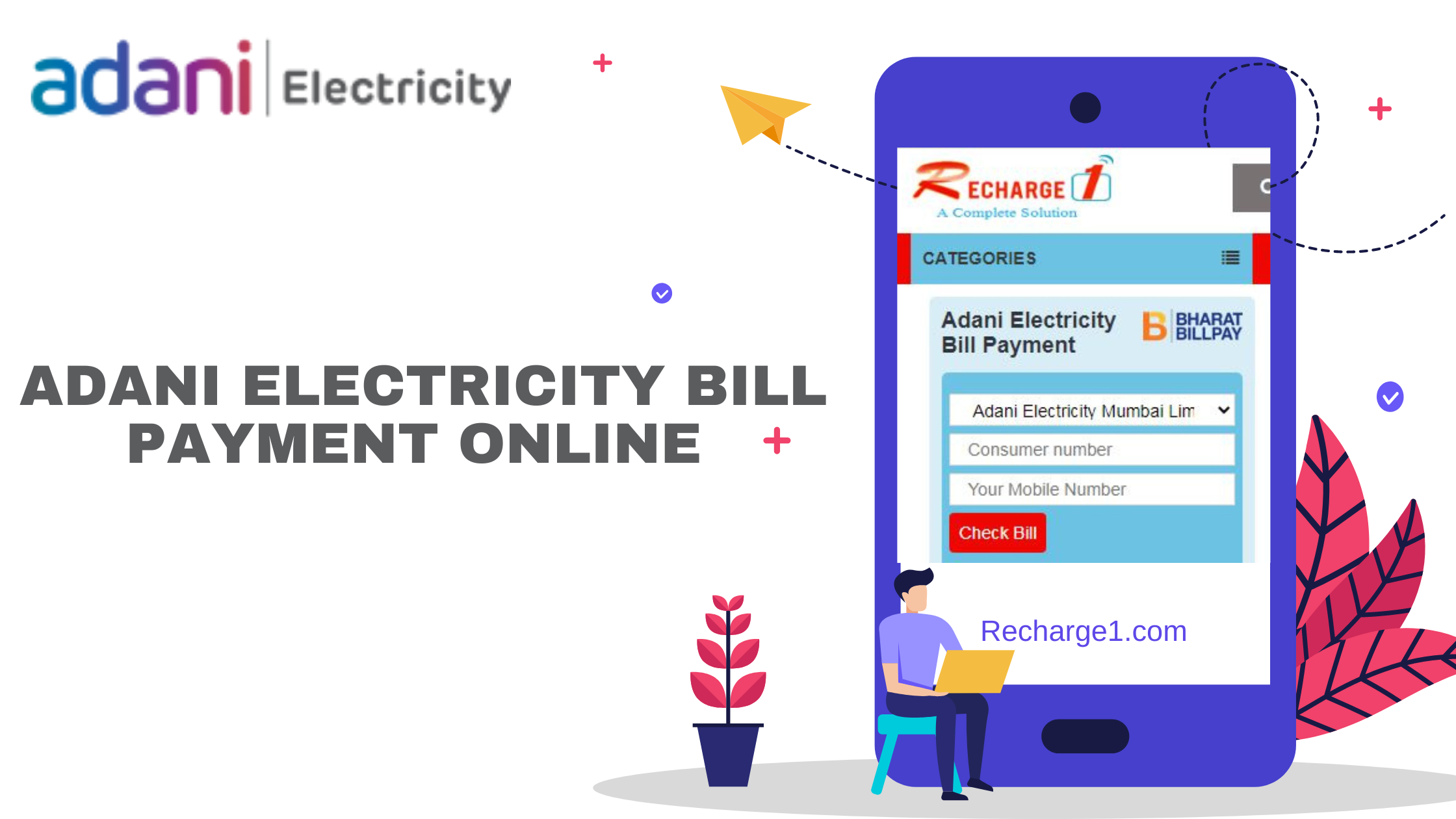 Here are a few simple steps to pay your Adani Mumbai electricity bill online through Debit Card, Master
Card, Credit Card, Net banking, UPI and Wallets etc.
Go to the payment Link: Adani Electricity Bill Payment
Enter the Adani Account number or CA number as it is in the bill. Consumer Number is a unique 9 to
10 digits long which is allotted by Adani Electricity Department Mumbai to each consumer.
Enter your Mobile number
Click on "Check Bill"
Bill details will be displayed on your screen
If details are correct click on Pay
Login using OTP or password
On the payment page select the payment mode you wish from Debit Card, Credit Card, Recharge1
Wallet, Net Banking, or UPI
Fill in your details as per payment mode and complete your payment.
On Successful transaction, you will be notified
Your Adani electricity bill payment is done successfully
Get Cashback/Rewards on Paying Adani Online Electricity Bill at Recharge1
We all like it when we save a little extra money. On Adani electricity bill payment on the Recharge1
platform, you will save some money through rewards like cash back, discounts, or coupons. Along with
easy payment anywhere anytime, you will also save some money when you do an Adani bill payment on
Recharge1.
How to utilize Cash Rewards/ Cashback offers at Recharge1?
You have a chance to get 100% cash back or cash reward every time you make your Adani bill payment
online successfully on the Recharge1 platform. Other than this you can also avail the latest offers or
vouchers. Only a few lucky users get lucky vouchers utilizing which you can save more at Recharge1. To
make the best use of the offers like Cash Rewards/ Cashback at Recharge1 follow these steps –
Visit – Recharge1 Ecommerce Store
Look for eligible products and add them to the cart
Go ahead and buy these
On the payment page, additional discounts happen automatically by fetching cash rewards/ Cashback
Now Cash Rewards/ Cashback is applied and you can buy with more discounts
Adani Electricity Complaint & Customer Care Number
Adani Customer Care Number – 19121 ( 24 X 7 ) / 1800532 9998
SMS – Power to 7065313030
Email – helpdesk.mumbaielectricity@adani.com
Read Also: Adani Gas Payment Online With Unlimited Cashback at Recharge1