Jio Recharge Plan: With a new boom, Jio introduced one of the cheapest prepaid plans with Rs 1/- for 28 days validity. We will guide you for the easiest way to Jio Online Recharge with no hassle.
Jio Online Recharge
On Wednesday, Jio silently introduced the cheapest prepaid recharge plan with the price of Rs 1/-. This Jio prepaid plan gives the validity of 30 days and offers internet data of 100MB. As of now, this Jio online recharge is visible only on the My Jio app but not the website. Initially reported by Telecom Talk, Jio came with Rs 1/- the prepaid plan that offers 100 MB internet data with 30 days validity. After the 100 MB exhaustion, Jio users will get an internet speed of 64Kbps for internet browsing.
This Jio recharge plan just comes shortly after all telecom companies introduced specific hikes in their prepaid plans. This Jio prepaid plan comes in the value plan category of Jio online recharge.
Reliance Jio is the Only Company to Offer Rs 1/- Prepaid Plan
This Rs 1/- the prepaid plan is the cheapest recharge plan offered by any telecom company in India. Jio always allows users to think for their pockets as it is excellent for low-income users who don't want to go for a high range plan, such as not requiring more internet data than required. Here, 100MB of internet data offered to the customers will be valid for 30 days. For example, if any user needs only 400MB of internet data, they can recharge this Jio recharge plan four times. It is far better than purchasing a high range 4G internet data voucher.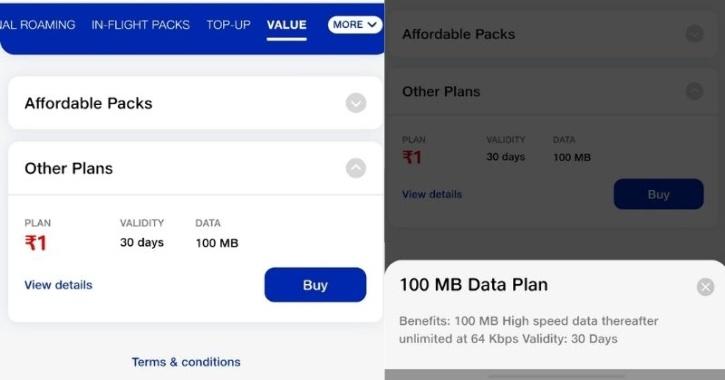 As of now, none of the other telecom companies is offering such a great plan to their users. Still, the company did not officially announce this plan and how many users can use this Jio online recharge. This seems to be a new prepaid offering under Jio's 'Value Plan' category.
Also Read: Jio Prepaid Recharge Plans And Offers
How to Check and Activate Rs 1/- Jio Recharge
This Jio prepaid plan might not be available for all Jio users right now. So to check and activate this plan, kindly follow the below steps as mentioned:
Download the MyJio official app on your device.
Go to the recharge section in the app, followed by the 'Value Plan' category.
Under the 'Value Plan', scroll down to get the 'other plans' option.
Here, you'll get the Jio recharge of Rs 1/-.
Click to buy and proceed with the payment gateway for successful recharge.
How Can I Make Jio Recharge Online Instantly?
To make Jio online recharge within a few seconds, you need to follow some basic steps as mentioned below:
Steps for Your Online Jio Prepaid Recharge:
Go ahead with the mentioned Jio Recharge Link: Jio Online Recharge.
Enter your Jio mobile number in the required field as required.
Select your Circle and enter the plan amount or select any exclusive Jio prepaid plan as per your preference.
Click to proceed and sign-up/sign in with your mobile number using OTP.
Proceed to the payment page and select any payment methods such as Debit Card, Credit Card, Net Banking, UPI, and R1 Wallet.
Your online Jio mobile recharge is done successfully and will be notified soon by SMS.
Also Read: 100% Cashback on Jio Recharge Plans and offers
Happy Recharging!!!
Thanks for reading this Jio blog till the end. For other relevant, informative & important telecom industry content, please reach out to Recharge1 official Facebook page or other social media platforms. And also, let us know with the comment that you are an eligible Jio user to get this cheapest Jio prepaid plan in the early phase.