MTNL Online Bill Payment: Get the vital information to pay your MTNL bills instantly using one of the most trusted online platforms, Recharge1 and the details of MTNL customer care numbers in the blog below.
MTNL stands for Mahanagar Telephone Nigam Limited, formerly known as Bombay Telephone Limited, a government-owned telecommunication service provider. Its headquarter is based in the capital city, Delhi. As of now, it is providing several services to Mumbai and New Delhi metro cities with online Bill Payment. MTNL is now a subsidiary of BSNL and is popular due to its pocket-friendly plans for landline, broadband, and many more. MTNL is the largest internet service provider in two circles: Delhi & Mumbai or the third-largest internet service provider in India. 
Here, you will get the modern and easiest way for your MTNL Mumbai Bill Payment. Also, you'll get some of the essential contact details of the MTNL concerned department as per your concerns with it.
Ease of MTNL Bill Payment
Nobody wants interruption in the network while almost whole things depend on the network service, such as essential calls, internet service, and many more. So we came with the basic steps to pay your MTNL bills within a few minutes. Those simple steps are as mentioned below:
Click on the mentioned link as per your service and region:
Enter your MTNL telephone number and account number in the required column.
Click on the check bill to get the outstanding bill due amount.
Go ahead with the sign up/sign-in form and proceed to the payment page.
Select your convenient payment option such as Debit Card, Credit Card, Net/Internet Banking, UPI, R1 Wallet to make your bill payment successful.
Your MTNL landline/broadband bill payment is done successfully, and will notify soon.
MTNL – Customer Care/Helpline Numbers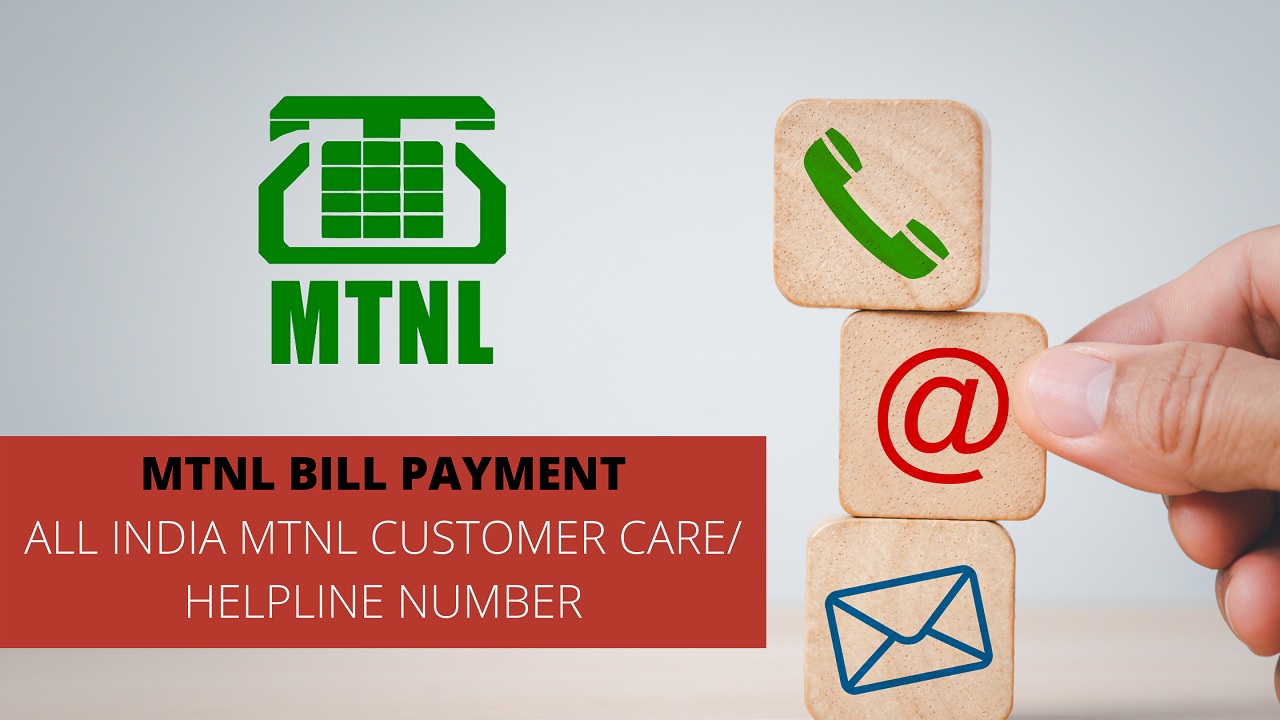 If you have any queries, complaints, or suggestions, you need support from the concerned MTNL authority. For this, MTNL has several helpline numbers to help you out with any problem or resolve your issues.
Below are some of the critical MTNL helpline numbers to serve you as required:
Toll-Free Numbers:
Toll-Free Number
Services
Numbers
MTNL Bill Enquiry
1660
FTTH
1505
Broadband
1504
Toll-Free
1503
In Services
1800 220 2992 / 1800 22 1500
MTNL Customer Care E-Mail Id:
MTNL Customer Care E-Mail Id
MTNL Delhi
feedback.delhi@bol.net.in helpdesk.delhi@bol.net.in
MTNL Mumbai
helpdesk.Mumbai@mtnl.net.in
Dolphin Services
1503@bol.net.in
Basic Services
1500@bol.net.in
MTNL PAN India Customer Care Number:
PAN India Customer Care Number
Services
General Queries
General Queries Toll-Free Number
Complaints [Toll-Free Number]
Landline
022 2222 1500
1800 22 1500
1500
Broadband
022 2222 1504
1800 22 1504
1504
FTTH
022 2222 1505
1800 22 1505
1505
Leased Line
022 2207 2690
12679
Mobile Services
98690 12345
1503
MTNL Customer Helpline Number:
Customer Helpline
Services
Numbers
Public Grievance Cell
Call At: 011 2335 6666 Fax: 011 2335 7777
MTNL Infoline
For Hindi: 2407 6666 For English: 2407 7777
MTNL Newsline
For Hindi: 2407 8888 For English: 2704 9999
Changed Number Enquiry Service
For Hindi: 1951 [IVRS] For English: 1952 [IVRS]
Fault Repair Service
2198 [IVRS]
Also Read: Step-By-Step Details for Your MTNL Mumbai Bill Payment
Also Read: MTNL Bill Payment Solution for the Metro Cities: Mumbai & Delhi
To get more information, you can visit the official MTNL website. Also, if you have any suggestions, please comment below and help us get out the best for you. Hope, we helped you! Thanks.