MTNL Landline Bill Payment: Connect with your loved ones always without any interruption due to your bill dues. Use Recharge1 to make your MTNL Mumbai and MTNL Delhi landline bill payment simple and quick with no hassles and avail 100% cash-back.
As we know, everyone is much busy in improving their work or life culture in the big cities such as Mumbai & Delhi, but internally also wants to be in touch with the ones who are the part of life. They might be of their friends, family members and office hosts as well. MTNL Mumbai and MTNL Delhi are the oldest and evergreen way of communication that connects all, but the worry is about MTNL payment.
Wait, worry not at all, as Recharge1 came with the modest and sorted option for the MTNL landline bill payment for MTNL users. Only within a few steps you can make your bill payment from anywhere with no time restrictions. So, no matter where you are, what time is it; make your dues clear with Recharge1 and let you connect to everyone who is missing nowadays. 
So, happily get together over MTNL landline.
Also Read: MTNL Mumbai Bill Payment: Landline, Broadband and Many More
How to Check My MTNL landline Bill Online at Recharge1.com?
Before settling your MTNL telephone bill payment, you must be aware of your dues. But how is it possible to check it online by your smartphone and desktop at the time of bill payment?
Here, we came with the solution to check or view your MTNL landline bill within a few clicks. Below is the easiest way to view your MTNL Landline Bill:
Visit the mentions link as per your region: MTNLmumbai.in Bill Payment and MTNL Delhi Landline Bill
Enter your Landline Number without STD Code and Account Number in the required columns.
Click on the check bill, and details will be displayed on the screen.
All details include Bill Amount, Due Date, Bill Date, Account Number, Customer Name and status as well.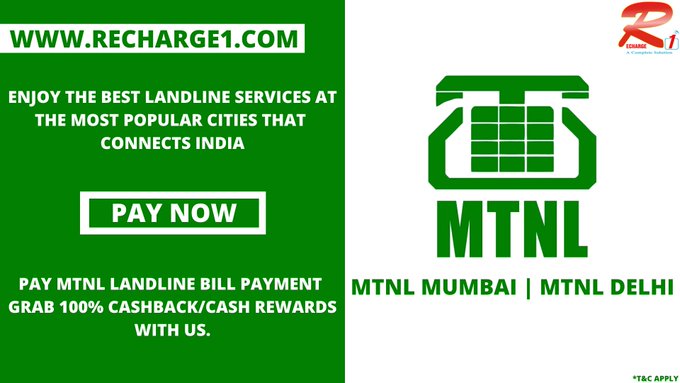 How to Pay My MTNL Landline Bill at Recharge1.com?
By following the above steps, you checked your MTNL Delhi and Mumbai bill dues. Now it's time to clear your all dues with the modest and safest payment option and enjoy the MTNL services with no restrictions.
Follow the below-mentioned steps for your MTNL Mumbai and Delhi bill payment:
Click on the mentioned link as per service area: MTNL Mumbai Landline Online Bill Payment | MTNL Delhi Landline Online Bill Payment
Here, enter your MTNL Landline/Telephone Number without STD code and Account Number in the required column.
Click to proceed and sign in with your Mobile Number using password or OTP.
Select Debit/Credit Card, Net Banking, UPI and R1 Wallet to complete the Online Bill Payment.
Now your landline line bill is paid and rewarded by 100% cashback/cash rewards.
Also Read: MTNL Broadband – Check all Mumbai MTNL Broadband Plans & Offers
How Can I Contact the MTNL Customer Care?
In this digital era, getting connected with MTNL customer care has become very easy. With the below-mentioned contact number, you can quickly contact them.
MTNL Delhi Helpline Details:
Customer Care Number: 1503
Landline Customer Support: 1500
SMS Alert: 9868552121
MTNL Mumbai Helpline Details:
Only MTNL Payment Queries: 022-22035017
Other Queries: 022-22074800.
Email ID: selfcare@mtml.net.in