When we are planning to get the high-speed internet with Broadband across Mumbai, then it is obvious to come to know about MTNL Mumbai Broadband Plans such as Budget Non-Combo Plans, Unlimited High-Speed FUP Plans, FTTH Advance Rental Combo Plans, Data Top-Ups, and Prepaid Vouchers for new or existing users.
This article is coming with the updated MTNL Broadband plans & MTNL bill payment option with great offers. Here, you will get all MTNL broadband plans with main benefits or additional benefits as well. So let's not waste more time; just come back to the points & start with today's article.
Budget Broadband Non-Combo Plans

DSL 330* (Non-Combo) plan for those MTNL Mumbai Broadband customers looking for Pocket-friendly or budget-friendly internet broadband MTNL plans & theirs internet usage are up to a certain limit. MTNL Mumbai just came with a DSL 330* plan with the cost of Rs 330/- only that offers multiple benefits such as monthly FUP quota of 60 GB with the download speed of 6 Mbps, and upon FUP implementing it drop downs to 256 kbps, that is not bad at all. Moreover, with good download speed, its offered Upload speed is 768 Kbps & 256 Kbps, respectively.
In this plan, Voice charges will be applicable as per opted MTNL Landline Bill or MTNL Mumbai Landline Bill Payment. Also, please go with the MTNL Mumbai official site for other expenses such as installation, activation and other charges; GST will also be charged extra as applicable. 
Broadband Unlimited High-Speed FUP Plans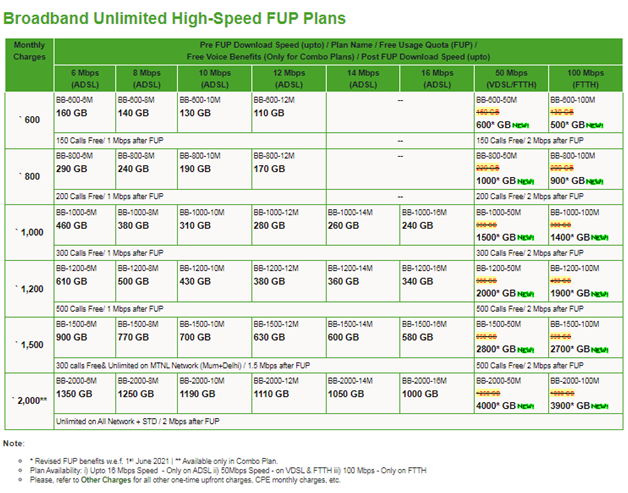 MTNL Mumbai is known for its wide range of High-Speed Broadband Unlimited FUP plans within the Monthly charges of Rs 600-Rs 2000**. The above plans show a Minimum 6 MBPS and Maximum 16 MBPS speed on Asymmetric digital subscriber line (ADSL) line. The upper limit unlimited Internet plan detailed by the MTNL Mumbai Company is Rs 2000, with options of 50 Megabytes per second (MBPS) & 100 MBPS internet speed on MNTL Mumbai FTTH.
Also Read: Online MTNL Bill Payment with Latest Offers
As per the above, MTNL Broadband Internet plans have their respective Internet speed on the ADSL/VDSL/FTTH connections. In addition, MTNL Mumbai Broadband charges onetime registration, activation (non-refundable), and monthly CPE charges with respected discounts, if any.
High-Speed FTTH Advance Rental Combo Plans (Quarterly | Half Yearly | Annual)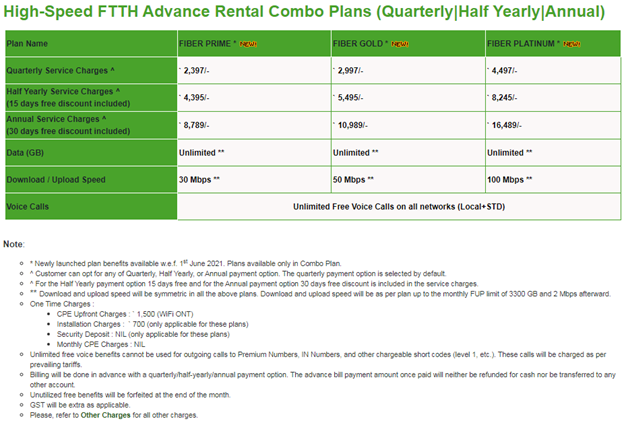 With a good customer approach, MTNL Mumbai comes with the High-Speed FTTH Advance Combo Broadband Internet Plans per requirements such as Quarterly, Half Yearly, and Annually. FTTH Plans are available into three sub-plans:
MTNL Fiber Prime
Fiber Gold
Fiber Platinum
All plans are customize as per customer needs and come with unlimited free voice calls on all networks.
Broadband Data Top-Ups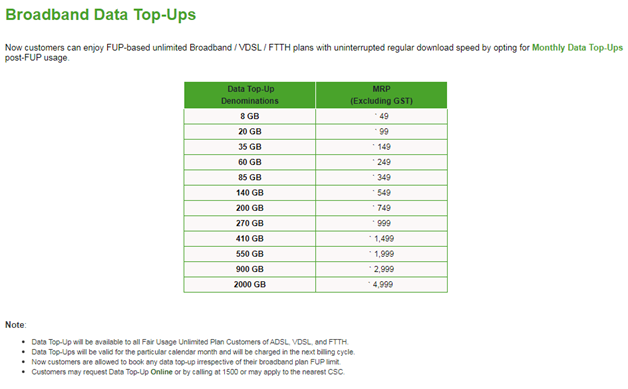 Also Read: MTNL Bill Payment October 2021 100% Cashback Offer
MTNL Mumbai is all about satisfying its customer with their Broadband internet usage. That is why it comes with Broadband Data Top-Ups plans to provide extra data. These above Top-Ups will be valid for the particular month and will be charged or counted in the next billing cycle. All these Top-Ups are available to all fair usage of ADSL/VDSL/FTTH unlimited plan users.
Broadband Prepaid Vouchers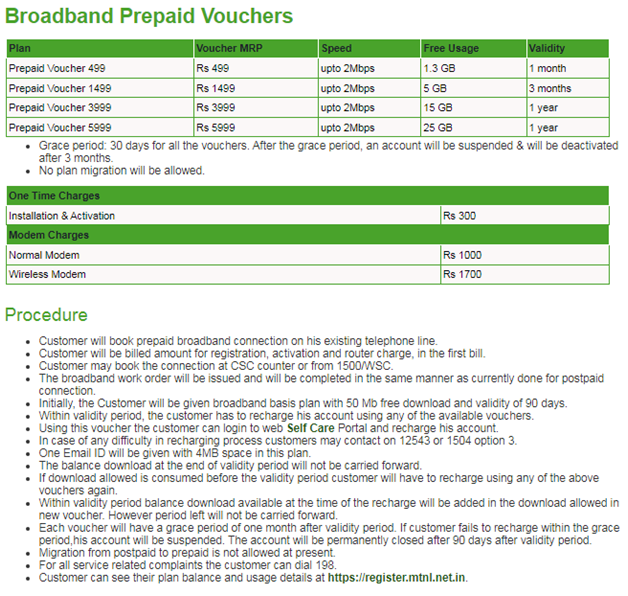 MTNL also offers prepaid broadband internet plans named as Prepaid Voucher 499, Prepaid Voucher 1499, Prepaid Voucher 3999, and Prepaid Voucher 5999 with 1 month, 3 months, and 12 months validity which has grace period of 30 days or 1 month. The speed comes with all plans are 2 Mbps with free usage of 1.3 GB, 5 GB, 15 GB and 25 GB respectively. The connection remains active till 90 days and then gets suspended after same.
To avail these plans, customer can book them on the existing MTNL Mumbai Landline and the registration, activation, and router charges will be charge in the next MTNL Mumbai Landline Bill Payment.