JBVNL Jharkhand: Jharkhand Bijli Vitran Nigam Limited, formerly known as JBVNL, took services online such as JBVNL bill check or payment at the consumer's fingertip with the eZy-bZly android mobile application.
Overview – JBVNL Jharkhand Bijli Bill
Jharkhand Bijli Vitran Nigam Limited (JBVNL) is one of the largest DISCOM utilities responsible for power distribution to the retail and bulk consumers in the Jharkhand state. JBVNL started on Jan 6, 2014, and has a user base of around 3.2 million with a 2150 MW peak load.
Currently, JBVNL is operational in seven areas of Jharkhand state, such as JBVNL Ranchi, Dhanbad, Singhbhum, Hazaribagh, Dumka, Medininagar, and also Giridh. JBVNL has different consumer's categories e.g. HT, DS, NDS, LTIS, and IAS, etc.
Moreover, JBVNL Jharkhand has taken many initiatives, which includes ERP & SCADA, Saral-Samiksha (online project monitoring tool), online electricity bill payment, JBVNL Suvidha portal, Sashakt (24×7 toll-free helpline), JBVNL Urja Mitra, online capex monitoring application, SMS based burnt DT reporting, android-based mobile application (eZy-bZly), facilitating JBVNL bill payment, new connections, lodging complaints, and also integrated Geographical Information System (GIS), etc.
One of the best innovations from JBVNL is eZy-bZly that means an android mobile app for all JBVNL online bill services. Let's get into the details with the below article:
Also Read: जेबीवीएन बिल का ऑनलाइन (JBVNL) भुगतान करें – आसान और सुरक्षित
Jharkhand Online Services – JBVNL eZy-Bill Mobile App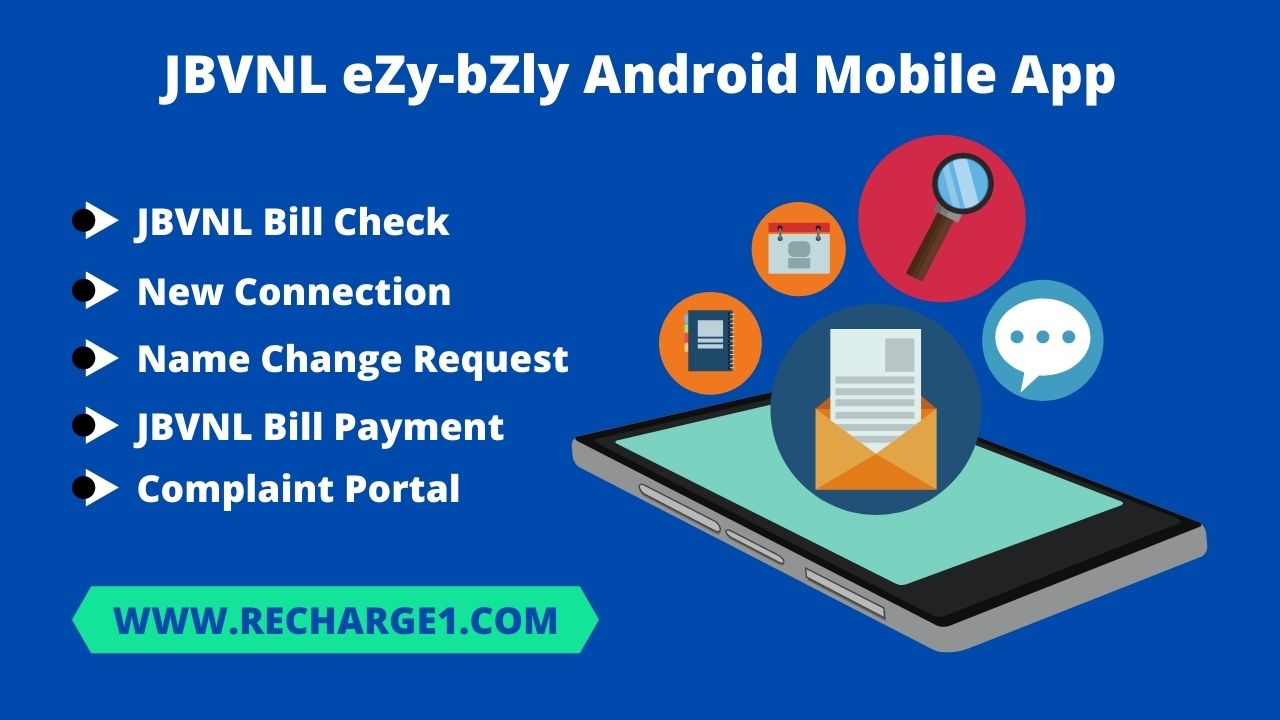 For customer ease, Jharkhand Bijli Vitran Nigam Limited has launched an android mobile app (eZy-bZly). This JBVNL mobile app is beneficial for various consumer services such as mentioned below:
New JBVNL connection,
JBVNL Bill Check / View,
JBVNL eZy-bill payment,
Request for load change, and enhancement, etc.
Name Change in JBVNL bill,
Also, Consumer Complaints and many more.
This JBVNL eZy-bill mobile app allows consumers to request various services without visiting any office or standing in the queue, such as JBVNL Bill Payment.
Moreover, JBVNL has initiated official social media platforms such as Facebook and Twitter to educate electricity consumers regarding the latest innovations in the JBVNL Jharkhand Discom.
Sashakt Cell – JBVNL Toll-Free Helpline
Jharkhand Bijli Vitran Nigam Limited (JBVNL) also encouraged consumers to inform their complaints through social media platforms such as Facebook & Twitter. Then these platforms are addressed timely using a centralized Consumer Care Monitoring Cell has named  'Sashakt'.
There are multiple salient features provided by JBVNL Sashakt Cell such as mentioned below:
Utilization of Social Media like Facebook, and Twitter,
JBVNL consumer complaint mode,
Review Integration,
Escalation Mechanism,
Also, Complaint Monitoring and many more.
Jharkhand Bijli Vitran Nigam Limited | JBVNL Customer Care
If you have any concerns, issues and any relevant questions for JBVNL Jharkhand utility discom; So you can contact the below-mentioned helpline numbers:
24*7 Customer Care Support: 1912
JBVNL Bill Customer Care / JBVNL Contact Number / Call Center Support: 1800 345 6570 / 1800 123 8745
Email Support: contactus@jbvnl.co.in, and
Official website: www.jbvnl.co.in
Moreover, you can directly reach out to the JBVNL office:
Registered office: H.E.C., Engineering Building, Dhurwa, Ranchi – 834004, Jharkhand
Also Read: DHBVN Bill Payment – Dakshin Haryana Bijli Vitran Nigam (DHBVN)
Frequently Asked Questions (FAQ) – JBVNL Jharkhand
How Do I Check or View JBVNL Bill Payment Online?
Visit Recharge1, and then select Jharkhand Bijli Vitran Nigam Limited (JBVNL) as your electricity board in the "Utility Section". Then, enter your Consumer Id and select your JBVNL Subdivision. Further, click on the "JBVNL Bill Check". Finally, your Jharkhand bijli bill will be shown on the screen with all relevant details.
How Do I Make JBVNL Jharkhand Bijli Bill Payment Online?
By following the below-mentioned easiest steps, you can make JBVNL online payment within a few seconds:
Firstly, go to the mentioned JBVN Bill Online link: JBVNL Jharkhand,
Secondly, enter your Consumer Id, and JBVNL Subdivision.
Sign Up / Sign In with your mobile number using an OTP and complete your JBVNL Online payment via multiple payment options such as Debit or Credit Card, Net / Internet Banking, UPI, or Online Wallets, etc.
Finally, your JBVNL bill is paid online successfully at Recharge1.
What are the JBVNL Jharkhand bill payment offers?
Once you make your JBVN online bill payment successful, then you will get 100% unlimited cashback on your electricity bill payment.
How Do I Register JBVNL Online Bill Payment Complaints?
You can reach out to JBVNL Customer Care @1800 345 6570 or 1912, and also mail at contactus@jbvnl.co.in