Jio Prepaid Recharge: Get Rs 200 cashback every day on every Jio phone recharge above Rs 200 like this. To get more information about Jio Recharge Online cashback, please go through the below-mentioned article:
Reliance Jio customers seem a little confused about the company's JioMart Maha cashback offers. Jio announced this ultimate maha cashback offer officially; so many users had already assumed that it'd be applicable only on the selected Jio prepaid plans. Only three prepaid plans were listed under this offer: Rs 299, Rs 666 and Rs 719 as mentioned on the Jio's official website. But it is not like as Jio users thought in the reality.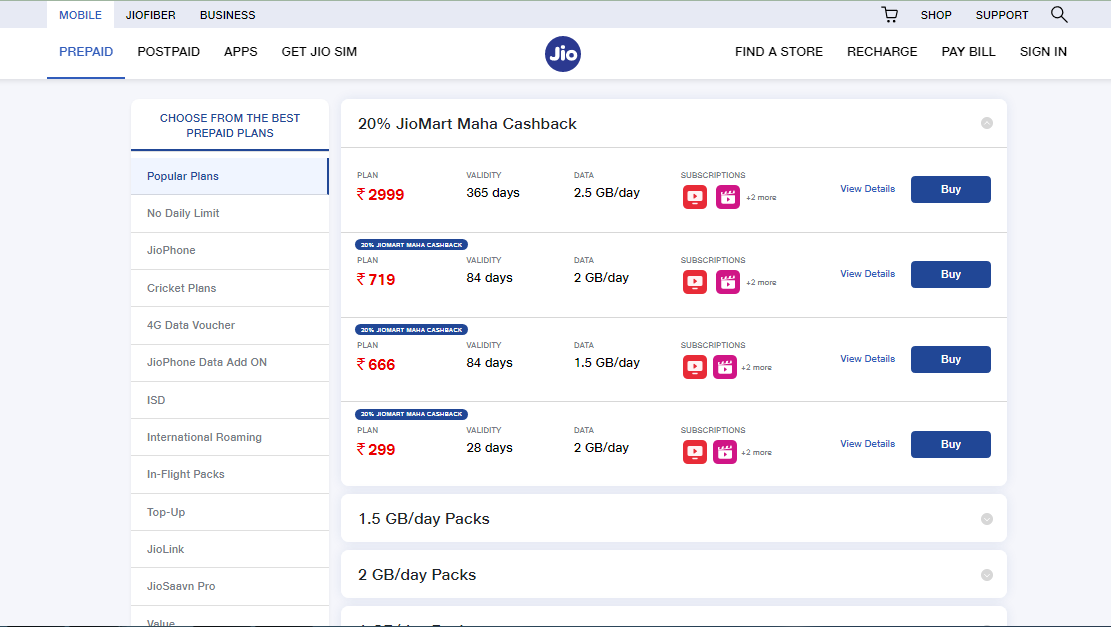 Jio company hasn't issued any official statement about this cashback offer; so it confused many users. Also, avail 20 percent cashback on all Jio prepaid plans of Rs 200 or more under the Reliance JioMart Maha cashback offer, as per Telecom Talk's recent report. It means that this Jio cashback offer is not limited to just three prepaid plans.
Is Reliance Jio Company Also Taking Benefits From these Cashback Offers?
Actually, Jio Company also directly benefits from the official silence on this cashback offer. Users who are not aware that they are doing Jio recharge of Rs 299, Rs 666 and Rs 719 to avail this cashback. Under this cashback offer, a maximum cashback of up to Rs 200 can be availed in a day. This offer also applies to these prepaid plan.
Also Read: Get Cheapest Jio Online Recharge Plan of Rs 1/- With 28 Days Validity
How to Get the Benefits of these Cashback Offers?
You must do your Jio online recharge through the MyJio official app or Jio's official website only to get this cashback.
The recharge value or amount should be Rs 200 or more.
Users can use 20 percent cashback in their next Jio recharge online.
Cashback amount or points can also be used to get the discount on AJio, Jio Mart and many more.
Where to Make Jio Prepaid Recharge Online?
You are trying to decide which online platform is best suitable for your Jio mobile recharge without any hassle. So you should consider some key points are as mentioned below while recharge your Jio phone :
It should be instant and easy to use,
The online mobile recharge platform also should be safe and secure,
It should provides additional benefits includes offers, vouchers, and many more,
Strong and secure payment gateway with flexible payment options includes Debit/Credit Card/Net Banking/UPI/Wallet etc.,
Friendly user interface with amazing on-boarding experience,
Sends confirmation and notifications alerts instantly- be it about the payment completion or any relevant concerns.
Thank you for reading the full article and hope you liked the article. Also, if you have any suggestions, queries and relevant concerns, please feel free to reach out to us.
Happy Reading!!!