UPPCL Bill Payment: Check or pay your UPPCL Urban Bill Payment online within a few seconds with unlimited cashback at Recharge1.
What is UPPCL?
UPPCL stands for Uttar Pradesh Power Corporation Limited, distributing and transmitting electricity across Uttar Pradesh. For reliable & efficient electric supply, UPPCL is further divided into:
Dakshinanchal Vidyut Vitaran Nigam Limited (DVVNL) – Agra UP Discom
Madhyanchal Vidyut Vitaran Nigam Limited (MVVNL) – Lucknow Uttar Pradesh Discom
Pashchimanchal Vidyut Vitaran Nigam Limited (PVVNL) – Meerut UP Discom
Purvanchal Vidyut Vitaran Nigam Limited (PUVVNL) – Varanasi and Prayagraj Uttar Pradesh Discom
Kanpur Electricity Supply Compnay (KESCO) – Kanpur UP Discom
Lucknow Electricity Supply Administration (LESA) – Lucknow  UP Discom
Uttar Pradesh Power Transmission Corporation Limited (UPPTCL) – UP State Transmission Utility
UPPCL Bill Pay | UPPCL Urban Bill Payment
If you are searching for an effortless, simple, and online electricity bill payment website, Recharge1 is the best option to pay UPPCL online bill. Now, you don't need to visit the shop or stand in the long queue to pay your UPPCL bill due before the deadline. We are the most sorted and easiest option for making UPPCL online bill payment.
Read Also: Quick Way to Pay and View APDCL Bill Online At Recharge1
By easy electricity bill payment method, you can select your operator as "UPPCL Urban", fill in the CA number & then fetch your UPPCL bill due to pay. Opt for your convenient payment methods such as Debit Card, Credit cards, Net Banking, UPI Payment, ATM Card, Online Wallets, and save your time & efforts while making UPPCL Urban Bill Payment.
UPPCL Bill Status Check | UPPCL Urban Bill View
Yes, you can check your UPPCL bill payment status online within a few seconds at Recharge1. Only you need an internet connection and a smart phone to check or view your UPPCL bill online. Follow the below easiest steps to check your UPPCL online bill: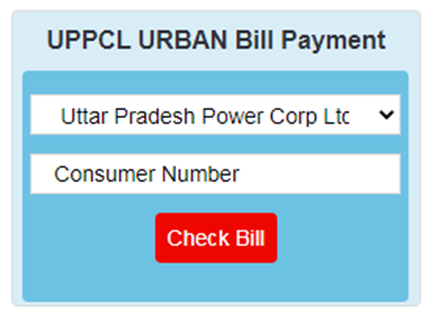 Go to Recharge1 and choose "Electricity Bill" in the "Utility Section".
Now, select your "UPPCL Urban" as your Electricity Board.
Then, enter your "Consumer Number" allotted by UPPCL Urban Electricity Company.
Click on the "Check Bill", and your UPPCL Urban online bill status will be shown on the screen with all relevant details.
What is Consumer Number in UPPCL Urban?
Consumer Number is a unique 10 to 12 long digits unique number allotted by UPPCL Urban (Uttar Pradesh Power Corporation Limited). You can easily find your Consumer Number printed on the monthly UPPCL Bill. You need this Consumer Number to check or view and pay your Jhatpat UPPCL bill online.
UPPCL Online Bill Payment | UPPCL Urban Bill Payment
Once you succeed in viewing or checking your UPPCL online bill, then you can easily make your UPPCL bill payment online. Some basic steps to check your UPPCL Urban electricity bill online as mentioned below:
Go to the mentioned UPPCL Bill Payment link: UPPCL Urban
Enter Consumer Number allotted by UPPCL Electricity Company in the required field.
Go ahead to Sign In /Sign Up with mobile number using a One Time Password.
Complete your UPPCL online bill payment using Debit Card, Credit Card, Internet Banking, UPI, or Online Payment Wallets.
Finally, your UPPCL Urban bill is paid online successfully at Recharge1.
Note: You can also make UPPCL Rural bill payment online & can avail of 100% cashback or cash rewards on your UPPCL online bill pay.
UPPCL Urban Customer Care | UPPCL Complaint Number
If you are facing any issues related to UPPCL Online Bill Payment, UPPCL Duplicate Bill, View or Check UPPCL Bill Online; so please feel free to reach out to the below-mentioned UPPCL Customer Care Number:
UPPCL Helpline Number: 1800 180 3002 / 1800 180 3023
The above number is the latest UPPCL complaint & customer care number, which you can use to register complaints regarding UPPCL bill payment.
Also Read: BSES Rajdhani Bill Payment Online – BRPL Delhi
UPPCL Online Bill Payment Offers | UPPCL Bill Pay Offers
You can earn unlimited cashback or cash rewards while paying your online Uttar Pradesh Urban bill. At Recharge1.com, you can enjoy multiple cashback offers on your UPPCL bill payment, such as mentioned below:
Enjoy 100% cashback/cash rewards on every UPPCL Urban Online bill payment,
Win Rs 35/- daily Voucher, and Rs 199/- monthly vouchers as our lucky users on UPPCL bill pay,
Moreover, get up to 20% additional discount on the Recharge1 e-commerce listed products with available deals, especially for UPPCL bill users.