BESCOM Bill Payment: Check and pay your BESCOM Bangalore electricity bill online instantly at Recharge1 with unlimited cashback offers.
BESCOM Online Bill Payment | Bangalore Electricity Bill Pay
Mainly, BESCOM stands for Bangalore Electricity Supply Company Limited, commenced its operation on the 1st of June 2002 by taking over the KPTCL (Karnataka Power Transmission Corporation Limited). BESCOM is responsible for the power distribution and BESCOM bill payment facility in eight districts such as Bangalore Urban, Bangalore Rural, Chikkaballapura, Kolar, Chitradurga, Davanagere, Tumkur, and Ramanagara of Karnataka state.
With the above details, BESCOM Bangalore has four operational zones such as Chitradurga Zone, Bangalore Metropolitan Area Zone(North), Bangalore Rural Area Zone, and Bangalore Metropolitan Area Zone(South), 9 Circles, 32 Divisions, 147 Sub-Divisions, and 534 Section Offices. Therefore, it almost covers the population of more than 207 lakhs (Approx) across 41,092 sq. kms. of the area in Bangalore.
Read Also: Change your Telephone No. in a BESCOM Electricity Bill Online
How Can I Check or View My BESCOM Bill Online?
Looking for the best option to pay your BESCOM bill? But confused about your BESCOM bill dues; no worries, now you can easily check your outstanding BESCOM bill pay and also, quickly pay your BESCOM bill online at Recharge1. So, here are the steps to check or view your BESCOM bill: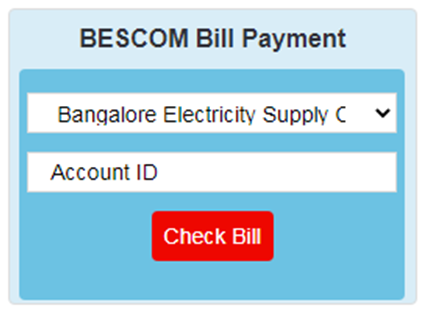 Visit Recharge1 and choose "Electricity Bill" in the "Utility Section" mentioned in Dashboard.
Now, select your "BESCOM Bill" as your Electricity Board.
Then, enter your "Account Id" allotted by BESCOM Bangalore.
Finally, click on the "Check Bill", and your BESCOM online bill status will be shown on the screen with all relevant details.
How Can I Make BESCOM Online Bill Payment?
After knowing the BESCOM dues, you can easily make your BESCOM online bill payment within a few seconds. So, here are the steps to make your BESCOM bill pay online:
Firstly, Visit the mentioned online payment link. BESCOM Bill Payment
Then, enter your Account ID given by BESCOM in the required form and go ahead with the submission.
Sign In with your Mobile Number through password / OTP (For Registered) or One Time Password (Non-Registered).
Now, complete your BESCOM online payment using any convenient payment options such as Debit Card, Credit Card, Net Banking, UPI, and Online Payment Wallets such as R1 Wallet.
Hurrah! Your BESCOM Online Bill Payment is done and will be notified with transaction details.
How Do I Know My BESCOM Login Account Id?
BESCOM Account ID is 1 to 10 long unique digits given by BESCOM – Bangalore Electricity Supply Company Limited to each BESCOM electricity consumer. Also, you can quickly get your Account Id printed on your BESCOM Bangalore Electricity Bill Receipt.
BESCOM Mithra – Bangalore Electricity Bill Payment Online
BESCOM has also taken such great initiative to provide efficient services and build a trustworthy relationship with its consumers by developing a VRM in this digital era. Here, VRM is known as Virtual Relationship Manager, which means BESCOM Mithra. Moreover, the mobile android app facilitates its online electricity bill payment & other services with no hassles and avoids delays in such BESCOM online payment solutions.
BESCOM Online Services – Mithra App
Online BESCOM Prepaid Meter Recharge
Single or More Accounts Registrations/Installations
BESCOM bill pay online
BESCOM Bill View OR BESCOM Bill Check Online
Online BESCOM Complaint Register and Tracking Solution
BESCOM Power Outage Information & Other Details such as Tariffs, BESCOM Policies, Schemes, and More.
Also, BESCOM Helpline.
Online BESCOM Bill Payment with Great Offers:
Now you are at the right point to save more for BESCOM online bill payment with Recharge1. Here you will get 100% Cashback or Cash Rewards on every BESCOM online payment by month after month. To avail of this offer on BESCOM payment, no code is required. So, you can simply make your BESCOM bill pay with Recharge1 and enjoy this cashback offer.
Moreover, Rs 35/- daily and Rs 199/- monthly Voucher on Email ID verification for our Lucky BESCOM online bill payment users, respectively. Also, Get up to 20% additional discounts with the available deals on the listed products at Recharge1 E-commerce Store.
Read Also: Check and Pay Your Odisha Electricity Bill Online At Recharge1
Is BESCOM Online Payment safe?
Undoubtedly, BESCOM online bill payment is entirely safe and secure in all aspects; so all the BESCOM payment transactions are safely or securely executed. Also, no such credentials or BESCOM user data are ever accessible by other individuals or third parties. So, we can say Recharge1 is the most sorted and quickest option for BESCOM online payment.
BESCOM Helpline Number and Customer Care
There a list of BESCOM Customer Care Numbers for its consumer to provide any technical or non-technical assistance. Moreover, you can register or ask for your complaints, queries, and suggestions on the below mentioned BESCOM helpline numbers. So, some of the important BESCOM customer care details for BESCOM online payment as mentioned below:
| | |
| --- | --- |
| BESCOM Helpline Numbers | BESCOM Customer Care Deptt. |
| 1912 | 24×7 Helpline |
| 58888 | Complaint Number (SMS) |
| 9449844640 | WhatsApp (General) |
| 9483191212/22 | WhatsApp (Safety Concerns) |
| 9243150000 | BESCOM Complaint Number |
| helpline@bescom.co.in helplinebescom@gmail.com | BESCOM Email Support |
BSNL Helpline & Customer Care Details – Recharge1