Assumes you have come to know about the Utility Bill Payments (like Electricity Bill Payment, Broadband Bill Payment, Water Bill Payment, Gas Bill Payment, and Landline Bill Payment) deadline that is the mid-week, and you are out of the city or busy in your work profile or something else. Now you are completely under banked. Still there are some options to fulfill it such as you can pay it after come back, but maybe you face some penalty fees or service interference. OR you can take work off and pay it, but you need to lose single or the half of your wage payout. OR You can visit a concerned office in business hours, but also you need to suffer in your daily routine. And also you can visit the broker store but here also you can face some high additional charge such as 5-6% or more.
Here, Recharge1 comes into the existence to serve you and give the freedom from such hustles which mentions above. Recharge1 is completely one point solution for all your utility bill payments that are pending or at the deadline. Here you can pay Online Electricity Bill Payment, Online Broadband Bill Payment, Online Water Bill Payment, Online Gas Bill Payment and Online Landline Bill Payment means almost all Utility Bill Payment.
Is All Utility Bill Payments Covered At Recharge1?
First you need to understand what is utility. It refers to all basic and practical service which gives you degree of satisfaction in your daily life such as electricity, broadband, water, gas, and landline etc. For these services you need to pay as per service provider regulatory norms.
Different service providers exist for different services like:
Electricity: Almost all state and center electricity boards such Adani Electricity, DHBVN, BSES, BESCOM, TATA Power and Tamil Nadu Electricity Board (TNEB) or many more.
Broadband: Airtel Broadband, BSNL Broadband, Hathway Broadband, Connect Broadband, Tikona Broadband, MTNL Mumbai Broadband & Delhi Broadband etc.
Water: Delhi Jal Board, Urban Improvement Trust (UIT) Bhiwadi, Municipal Corporation of Gurugram (MCG) and Uttarakhand Jal Sansthan (UJS).
Gas: Adani Gas, Indraprastha Gas Limited (IGL), Mahanagar Gas Limited (MGL), Maharashtra Natural Gas Limited (MNGL), Gujarat Gas Company Limited, Haryana City Gas, Tripura Natural Gas Company Limited (TNGCL) or many more.
Landline: Airtel Landline, BSNL Landline, MTNL Mumbai Landline & MTNL Delhi Landline.
Yes, At Recharge1 no shortage of service providers for different utility payments. You will get what you are searching for without any hustles. That is why; Recharge1 is completely one point solution for all Utility Bill Payment.
Steps To Pay Online At Recharge1?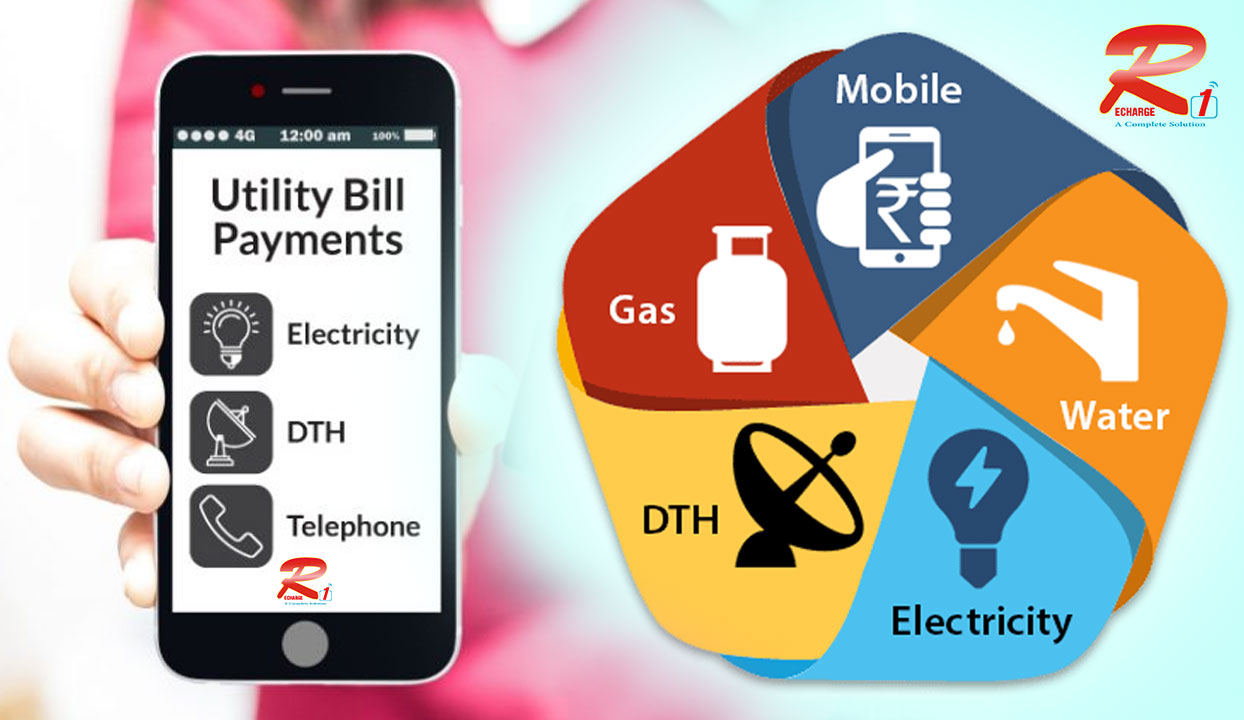 You just need to follow same procedure for Online Utility Bill Payment at our Website and Recharge1 App modes.
New or Registered User– New user will see a message informing him for sign up with valid information whereas registered user will proceed after sign in.
Guest User-Guest user can avail the service after mobile number verification.
E-Mail– Enter a valid e-mail ID where you would like to receive the transactions details, if you have created an account then just sign in with your credentials.
Select Service-Click on Utility Bill option, select service, then operator & other required details & "Proceed". For Ex: Suppose you want to pay Tamil Nadu Electricity Board Online (TNEB) so first click on Utility Bill, then select Electricity Bill in service, now select your board Tamil Nadu Electricity Board (TNEB) and give your consumer number and go ahead.
Payment Modes– Select your preferred mode of payment like Debit Card, Credit Card, and Net banking etc.
Payment gateway– After redirecting, enter your appropriate payment mode details & submit.
Confirmation – Hurrah! Payment successful with all your transaction details, service will be delivered ASAP OR as per service provider norms.
What Amaze You About Recharge1?
With Recharge1, you just don't pay for your service but meanwhile you earn also a lot. How, we are here to help you to excite you about earning in many ways instead of only spending.
*Cash Rewards: Once you've done payments successfully, you will be rewarded with 100% Cash Rewards every time. Yeah, you heard right, isn't it so amazing? Yeah, so obvious it is. To know how it can be use, you can visit us as we know you are very curious for it.
**Referral R1 Money: Here is the thrilling theory of Recharge1 for referral. You can generate your unique referral link and if any random individual do the successful payment of Our Prepaid services such mobile recharge and DTH recharge or purchase any listed products from our E-STORE through your unique referral link. So you'll be rewarded with R1 money that will be deposited in your R1 Wallet and you can use it for any of our services or E-STORE products buying.
For more learning, we will come with the latest relevant blog soon. So Keep in touch with us by means of www.recharge1.com.
Fastest & Safest: Yes, we understand for what pace you are looking at. Recharge1.com comes with the least time service to reach out your final destination. And all transactions are totally secured by our PayU payment gateway partner.
Recharge1 Customer Support: You can reach out to us by,
Write us at support@recharge1.com Or
Direct contact us @ 0124-4300497 Or
Click on Contact us link & submit queries you have
We assure you about our extremely rapport customer experience, and you will get the appropriate response within 24hrs-48hrs Or ASAP.
Nominal Service Fees: For Recharge1 customer, we only suppose to get the payment gateway service charge that is very nominal means 2 to 3 %. We are here to gain only customer faith that is worth it for us.
Don't be in hurry, apart from these we have many more perks and offers for you. So why waiting outside, come with Recharge1 and enjoy with every successful payment and grab latest offers.